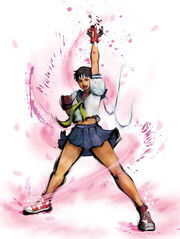 Sakura Kasugano
(春日野 さくら) is a character in the
Street Fighter
series. She is a 16-year-old (as of Street Fighter Alpha 3) Japanese schoolgirl who has an intense fascination with Ryu. She has managed to copy and learn some of Ryu's techniques, but really wants him to train her personally.
Backstory
Chronologically, Sakura first appeared in Rival Schools, where she had begun to participate in street fighting after watching Ryu win the first World Warrior tournament. Rival Schools saw Sakura involved in the adventure between her school and various others in Aohura city. Fighting in it, she realized how much it meant to her to protect something she cared about.
She was searching for Ryu and wished for him to train her to be a better fighter. She met up with many interesting people along the way, and eventually came across Ryu, who was still stressed over the Satsui no Hadou that had corrupted him - he told her he could not train her as he still had much to learn himself. He sparred with her for a bit and as he began to leave, she took a picture of him to remember him by.
She was still fighting in Street Fighter Alpha 3 and decided to travel the world to find Ryu. She started off in her native Japan and fought the sumo wrestler E. Honda, who mentioned Ryu was going off to such places as India and Thailand. She also fought a rematch with her rival Karin Kanzuki, and though Karin won the fight, admitted Sakura was better and she had learned winning was not everything. Thereafter traveling with her self-proclaimed sensei, Dan, she met his friend Blanka along the way and was promised a match with him. She continued to search the world for Ryu, eventually ditching Dan and finding Ryu's friend and rival Ken. She commented to him how she loved to fight to better herself, and finding inspiration in those words himself, Ken and Sakura eventually found Ryu in Thailand, where he was actually being brainwashed by M. Bison. Sagat had come by this time to find the scene as well, and as Sagat took on Ryu, both Ken and Sakura took on Bison. A combination of Sakura screaming for Ryu and Sagat's urgings finally snapped Ryu out of the mind control and he defeated Bison, destroying him temporaily. He told Sakura then he was not ready to train her and fight a rematch with her yet, and walked off, Sakura watching him go. She has a friend named Kei Chitose who attends the same high school and sometimes goes along with Sakura's street fight tour.
She returns again searching for Ryu. This time, it is heavily implied that her admiration toward Ryu has developed into a full-on crush. Her win quote against Sagat has her admitting that she understands his obsession with Ryu, adding "isn't he just dreamy?". Some time after the end of the second World Warrior tournament, she confronts Dan about whether he knows anything about where Ryu might be. Dan, not wanting to appear out of the loop, says that a new tournament is rumored to be about to start, and that Ken will be participating, speculating that Ryu will also be there. Ecstatic, Sakura immediately runs off to enter. She, Dan and Blanka depart on a cruise ship on which she endures a gruelling self-imposed training regime.[2] She also seems to have since become friends with Karin, texting her frequently to update her on Sakura's progress through the tournament.[citation needed] During the tournament, she actively seeks out Ryu, eventually finding him in the S.I.N. building in the midst of destroying the BLECE project. The force of the struggle knocks Sakura unconscious, and she awakes to see a triumphant Ryu standing over her. The two escape from the S.I.N. building in the midst of explosions which were probably caused by Vega's doing, and run into Dan and Blanka along the way. After the tournament, she and Ryu exchange goodbyes and Sakura leaves for home on the ship. Some time later, while out walking her dog, an older-looking Sakura sees Ryu approaching. What happens next is unknown.
Super Smash Sisters
Score at least 1000 KOs in vs. mode.
Win the match that follows those 2.
Recruit her in new Order.
Ad blocker interference detected!
Wikia is a free-to-use site that makes money from advertising. We have a modified experience for viewers using ad blockers

Wikia is not accessible if you've made further modifications. Remove the custom ad blocker rule(s) and the page will load as expected.