Rainbow Road is across between Mario Curcuit and stages like Super Smash Bros. Melee's Mute City, Port Town Aero Dive and Delfino Plaza. It has the same main hazards as Mario Circuit and the main platform travels the course and settles down in select spots.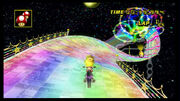 See Also
Videos
Ad blocker interference detected!
Wikia is a free-to-use site that makes money from advertising. We have a modified experience for viewers using ad blockers

Wikia is not accessible if you've made further modifications. Remove the custom ad blocker rule(s) and the page will load as expected.