This is the planet that you fight the Dino Piranha on. While the Dino Piranha appears in the image, he won't be appearing in the game.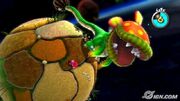 Description
---
This a simple stage, but what makes this an interesting stage is that you can walk and fight on the "sides" and "bottom" of the planet. Your control schemes will change on the sides and bottom though, so it takes some getting used to.
See Also
---
Ad blocker interference detected!
Wikia is a free-to-use site that makes money from advertising. We have a modified experience for viewers using ad blockers

Wikia is not accessible if you've made further modifications. Remove the custom ad blocker rule(s) and the page will load as expected.