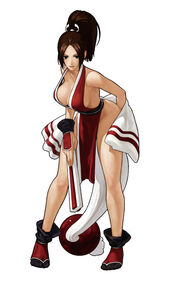 Mai Shiranui is one of the playable characters os Super Smash Sister.
Backstory
Mai Shiranui is the granddaughter of Hanzo Shiranui, master of ninjitsu and Koppo-ken. Mai learned from her father the secrets of Ninjitsu. She had met Andy during this time who had come to train under her grandfather. Mai then had to take alternate courses from her grandfather's friend, Jubei Yamada in ninjitsu. At first, Mai was uninterested in Andy and only thought of him as another callous man only interested in his training. It wasn't until he gave her a present on her birthday that she saw him in another light and eventually fell in love with him.
She spends much of the series endlessly pursuing Andy and fantasizing various daydreams about their wedding. When developers were asked about her whereabouts during Mark of Wolves, they chose not to answer the question directly. However, they did divulge that she still loves Andy — as she always has — ten years later.
During nearly every King of Fighters tournament, Mai pesters Andy to enter and form a team with her. Upset at his refusals and choice to join a separate team, she forms an all women team with the help of Yuri and King. In the following years her teammates change, but she remains firm to enter the tournament to help encourage King and her fellow team members and to prove to Andy the error of his ways. In King of Fighters 99, she is finally able to join the tournament in the same team as Andy. However, in the following tournament was asked to step out to allow Blue Mary investigate a case. Denied again, she is angered by the request and joins the Women's team again and has remained a reoccurring member ever since. In the various team endings, she is often celebrating the team's victory at King's bar or fantasizing about Andy.
Mai, who feels that a KOF tournament isn't complete without her, decides to enter the KOF XIII with her first KOF teammates. She isn't upset at Andy while making her choice, content to enter a tournament with both her and him in it once more.
Super Smash Sisters
Mai is playable in SSS. She can hide her weapons in her clothes much to some ranger and German troop disgust.
To unlock
Kill at least 50 troops in Endless Fight.
Win the match that follows.
Recruit her in New Order.
Special Moves
B: Kachou Sen: Mai throws her fan in a fireball manner at her opponent.
B Side: Ryu Enbu: Mai spins around forwards while creating a blast of fire near her.
B Up: Musasabi no Mai: Mai jumps into the air with her fan in her mouth then when high enough, rolls then dives downwards.
B Down: Hissatsu Shinobi Bachi: Mai cartwheels then hops forward in an elbow lunging attack.
Final Smash: Mizutori no Mai: Mai takes out 3 fans then throws them right at her opponent. Like the Kachou Sen, but they are much faster and more stronger than the slow counterpart.
Ad blocker interference detected!
Wikia is a free-to-use site that makes money from advertising. We have a modified experience for viewers using ad blockers

Wikia is not accessible if you've made further modifications. Remove the custom ad blocker rule(s) and the page will load as expected.