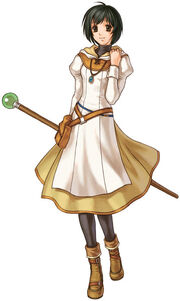 Born in Daein, Laura is a young priestess who lends Michiah's group as a healer. She is the childhood friend of Aran, who can be recruited with Laura. Aran seems to care for Laura as he is always trying to help her. She is a girl of purity and devotion to the goddess Ashera. She is recruited in the beginning of Chapter 2. She begins as a priest. After
Daein
is revived, she remains in the army with Aran until
Ashera
delivers her judgment. This shows how developed Laura's friendship is with Aran.
Super Smash Sisters
Laura is a playable magic user in SSS. She is of the saint class like she is in Radiant Dawn and can also use the Rexaura. She can also put an opponent to sleep to buy herself time with a sleep staff. Some Daein personnel do not know she is in a secret relationship with Micaiah.
To Unlock
Complete Carve a Statue Bonus Game with 14 characters.
365 Matches
Get her on your side in New Order.
Ad blocker interference detected!
Wikia is a free-to-use site that makes money from advertising. We have a modified experience for viewers using ad blockers

Wikia is not accessible if you've made further modifications. Remove the custom ad blocker rule(s) and the page will load as expected.