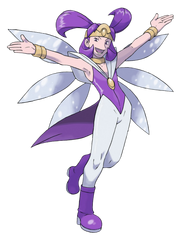 Dome Ace Tucker
(Japanese:
ドームスーパースター ヒース
Dome Superstar Heath
) is the
Frontier Brain
and commissioner of the
Battle Frontier
's
Battle Dome
. He is the only character in the games to have the
Trainer class
Dome Ace
(Japanese:
ドームスーパースター
Dome Superstar
).
Tucker is a superstar and enjoys the sound of a crowd chanting his name. He prefaces battles with narcissistic comments, and if he loses, turns over the Tactics Symbol to the Trainer's Frontier Pass.
Role in Super Smash Sisters
Tucker the Dome Ace is a non-playable character in Super Smash Sisters. He fights in normal combat with gracefulness because of his outfit. He will not hesitate to use his Pokemon when need of backup.
Ad blocker interference detected!
Wikia is a free-to-use site that makes money from advertising. We have a modified experience for viewers using ad blockers

Wikia is not accessible if you've made further modifications. Remove the custom ad blocker rule(s) and the page will load as expected.